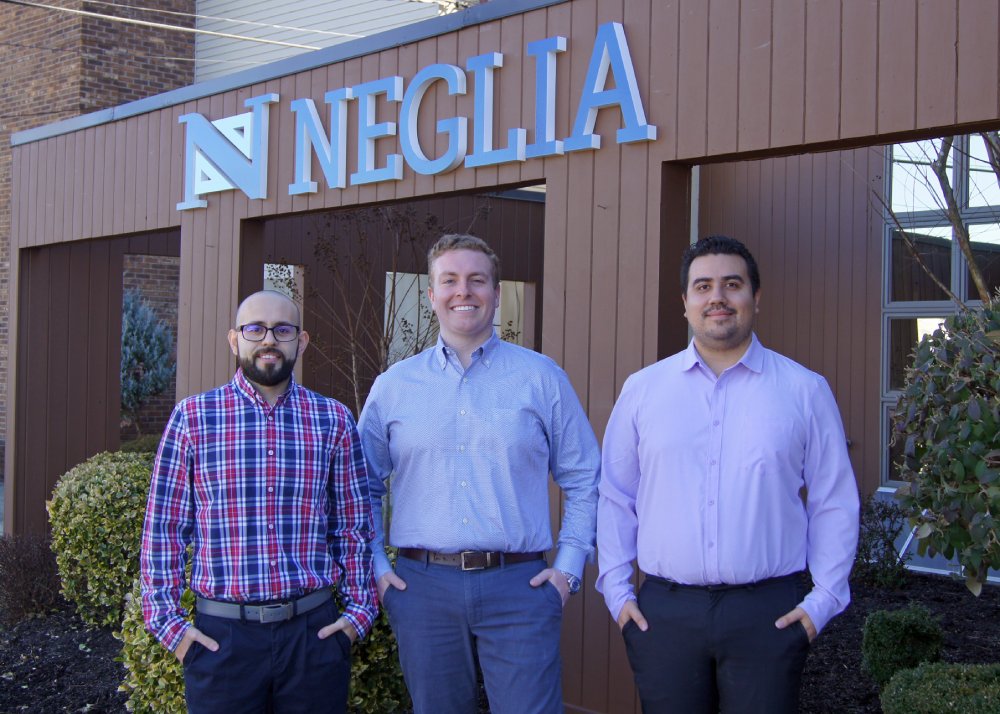 Neglia Group is pleased to announce promotions for David Silva (left), John Dunlea (center), and Norberto Hernandez (right) to Senior Manager. Congratulations!
Read more about their contributions to Neglia Group in their own words below.
David Silva, PE
Every day at Neglia brings on a new challenge. The most rewarding project I have worked on is the Gunnell Oval Recreational Complex in Kearny. As someone who grew up in Kearny, it was an honor to be part of the design team for this major project and provide construction management support through completion. This site is now home to nine baseball and softball fields, six soccer fields, two basketball courts, a tennis and pickleball court, a large playground, two outdoor fitness areas, a volleyball court, and two recreational buildings.
Other notable projects that I've worked on are the North Bergen Residential Transit Village, the 455 Sixteenth Street Drainage Improvements project in Carlstadt, the Veterans Memorial Field Improvements and the Dukes Street Stormwater Pumping Station in Kearny. During my time at Neglia, I have appreciated the many opportunities provided to me and I am most proud of the technical knowledge, hard work, and determination that I have been able to contribute.
John Dunlea, PE
During my career at Neglia, the two projects I am particularly proud of are the Wood-Ridge Athletic Complex and Belleville Municipal Stadium. Both major projects required unique site engineering solutions during design and construction. I consider my most memorable project to be the Learning Center Range and 9-Hole Course Renovation Project at Galloping Hill Golf Course in Kenilworth as it provided my first experience working on a project with substantial grading and drainage design challenges. Lastly, I am looking forward to seeing two large projects currently under construction reach their completion – the Original Grandstand Demolition and Site Improvements at Meadowlands Sports Complex and the new Carlstadt Garden Orchard Municipal Recreation Complex.
I am proud to work for Neglia and consider myself extremely fortunate to work for such a great firm. I do my best to exceed expectations by constantly interacting with clients and building my knowledge and technical skills as an engineer.
Norberto Hernandez, PE
During my time at Neglia Group, I have had the privilege of being involved in notable projects such as the Lyndhurst Middle School, Tops Diner Reconstruction in East Newark, and Wallington Veterans Memorial Library. While each project is different, I am encouraged each day knowing the impact these projects can have on the quality of life for residents of the communities we work in.
I am extremely proud of the growth our firm has experienced over the last several years and take pride in the responsibility we have been given to train the next generation of engineers. Most of all, I am thankful for all the opportunities provided to me and look forward to playing a role in what the future holds at Neglia Group!